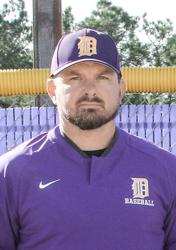 Coach Eddington is a 1996 graduate of very successful William Carey University baseball program in Hattiesburg, MS where he was a catcher and outfielder.    Coach Eddington's coaching resume includes developing a baseball program with the opening of St. Luke's Episcopal High School in Mobile, AL in 2009.   In 2010 the school competed with their first varsity baseball program, making it to the semifinal round of the playoffs with only 7th-10th graders.
They followed that season with 3 straight years of State Finals appearances; winning back to back State Championships the final two appearances (fastest team in AHSAA history to start a program, appear in a state title game, and win a state title).  Over the 7 years of varsity baseball, they recorded 178 wins with an average of 24 wins per season, made the playoffs all 7 years, won 5 Area Championships and helped 10 players receive athletic scholarships.   Included in that number is one of the top 2018 MLB shortstop prospects and East Coast Baseball player, Jeremiah Jackson, who recently signed his letter of intent to play at Mississippi State University.
In 2017, Coach Eddington accepted a coaching and Asst. Athletic Director position with Daphne High School in Daphne, AL where is working alongside former MLB coach Mike Goff to rebuild the 6A program.
Coach Eddington is happily married to Heather Eddington and they are proud parents of 3 boys, Bryce (Class of 2021),  Ty (Class of 2022), Kyle (Class of 2023), and daughter Mayson (Class of 2024).