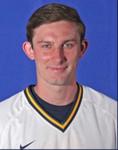 2017
Made 16 appearances on the season…logged a save on the campaign…tossed a season-long 2.2 innings vs. Delta State…struck out a season-best four batters against North Alabama…finished the season with 13 strikeouts in 22 innings.
BEFORE MISSISSIPPI COLLEGE
pitched one season at Holmes Community College for Kenny Dupont…posted a 3.76 ERA in 12 appearances on the mound…tossed 52.2 innings with a 5-4 record struck out 36 batters during the 2016 campaign…named to the MACJC All-State Second Team…named scholar athlete…prior to Holmes, he pitched four seasons at Grenada High School in Grenada, Miss., for Jake Yarborough…compiled a 1.21 ERA during his career with the Chargers…recorded 49 strikeouts in 2014 with five wins and a 1.29 ERA…posted 31 strikeouts in 2013 with four wins and a 2.13 ERA.
PERSONAL
son of Joe and Millicent Craddock…born on Aug. 29, 1995…majoring in Business.