east coast sox 17u ELITE coach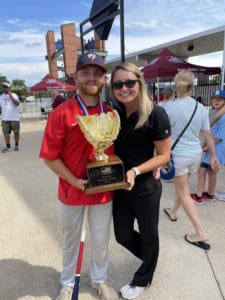 Coach AJ Bratton is entering his 2nd year as coach for the East Coast Sox.
AJ Bratton graduated from Tupelo Christian Preparatory School in 2017 where he was a 2-time-all-state catcher, 4-time defensive player of the year award in the division, and a part of the school's  first state championship in 2016. AJ was also elected to play in the State Games in 2016 and 2017, the NEMCABB All-Star game, and the Crossroads All-Star game.
AJ attended Belhaven University on a baseball scholarship and played under legendary Coach Hill Denson. He was a two year starter for the Blazers and had his last season cut short due to Covid-19.
Currently, AJ is in his second year as an assistant coach at Tupelo Christian Preparatory  School. He is an assistant for Shaune Holiday who is also an East Coast Coach and they are working towards repeating a state championship from last year. AJ is currently engaged to his fiancé, Abby.
Why I coach with East Coast Sox?
I am grateful for the opportunity to start my first summer with East Coast. This organization is well respected and does a great job of emphasizing faith just as much as baseball. I'm looking forward to coaching elite athletes in SEC stadiums and building relationships with kids all across the state. I'm ready to meet other coaches and learn from those who have more experience than me. The most important thing I am looking forward to is helping athletes grow closer to Christ. Baseball is temporary, but our faith is eternal.