east coast sox 14u diamond head coach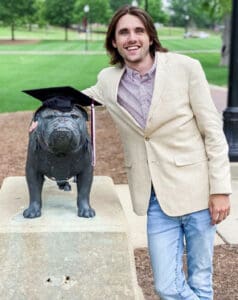 Coach Andrew Duff is entering his 2nd season with the East Coast Sox.
Andrew is a native of Pontotoc, MS. A graduate from Pontotoc City High school in 2016 a 1st Team All Division selective and Team MVP. After high school, Andrew attended Mississippi State University where was one of the founding players for the Mississippi State Club Baseball Team (2018-2020). Andrew also worked for the Athletic Department for Mississippi State Game Operations while earning his degree in Kinesiology.
Upon graduation Andrew was a Graduate Assistant for the University Of West Alabama where he coached Outfielders until 2022. Andrew is the son of Al and Venetta Duff. In his free time he enjoys spending time with his niece, watching Mississippi State baseball, quality time with family, church going, and seeing friends.
Why East Coast Sox?
I enjoy getting to be apart of these players lives. I feel such a joy seeing the love of the game come alive right in front of me. Seeing the coaches, players, and directors coming together for worship after games shows me the love and dedication we have from each and every individual with East Coast. To take a moment and thanking God for letting us play this beautiful game. I will forever be grateful and blessed for the opportunity to represent the Sox.