east coast sox 15u gold coach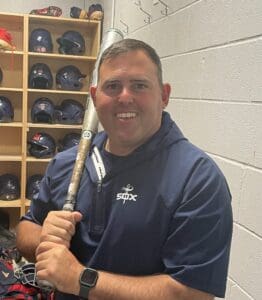 Coach Bifredo Barros is entering his 2nd season as an East Coast Sox coach.
Bifredo Barros is a native of Puerto Rico, his baseball pedigree comes from an island that lives Baseball. His strong faith in Jesus serves as his foundation to positively influence young athletes."Coach B" as he is known in the baseball community played Baseball in his beloved Puerto Rico, in the 1980's he attended the Baseball Camps of Hall of Famer Orlando "Baby Bull" Cepeda where his talents were notice and enjoyed a successful baseball career throughout his High School Years playing along side future MLB stars.
Coach Barros enlisted in the US Army in 1994 where he was a member of the Army Elite Athlete program playing Baseball for 3 years.
Coach Barros earned a Bachelors degree in ergonomics from Columbia University. His 25 years of military experience enable him to connect with young adults and influence them on and off the field.
Coach B have been on the coaching staff of the Bucky Dent Baseball Academy in Del Ray Beach, FL.
Served as the hitting coach for the Varsity Baseball Team @ Norcross School in Roanoke, VA. Was an assistant coach for the American Legion POST 3 in Salem, VA. He is currently the director of catcher development for the Parissi Speed School of the River Region. Where his experience and attention to detail is impacting the next generation of back stoppers.
His life experiences thru sports, personal and military life have strengthened his faith, his daughter Gabriel is a youth pastor at the Destiny World Outreach Center in Killeen, TX and his son Sergio is a
Freshman at Prattville, HS in AL. Married to his best friend over 20 years Yanilka.
East Coast Sox is "MORE THAN BASEBALL". Young adults grow physically, mentally and spiritually. I've enjoyed the healthy environment that challenges young athletes and develops all aspects of their lives.
The experiences of this program will endure a lifetime for everyone involved players, families and coaches alike.
Coach B favorite Psalm 23: The Lord is my shepherd, I lack nothing. He makes me lie down in green pastures, he leads me beside quiet water, he refreshes my souls.
Coach B Says: when building trust with a player "Players don't care what you know, they need to know that you care"