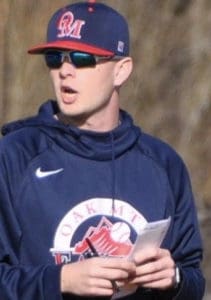 Boomer Murchison is returning to coach with the East Coast Sox after spending the fall of 2019 coaching the 14u age group. Coach Murchison just finished his first season at Oak Mountain High School in Birmingham, AL as the head freshman coach. His past coaching experience includes three previous years as a part of American Legion Baseball (Post 555) taking the 19u program to the first state championship in the history of the Post. He compiled a 43-19 record during his three years there.
Boomer is from Helena, AL where he currently resides. He attended Pelham High School where he graduated in 2015. During his time at Pelham the program achieved high measurable, winning the state championship in 2013, and runner-up in 2015. During the 2015 season, Murchison was a part of a record-breaking team that compiled 43 wins. He went on to attend Shelton State in Tuscaloosa, AL – after one year there he decided he wanted to move in a different direction and started pursuing coaching early on each summer while attending Auburn University to pursue a Physical Education degree.
Boomer is now a PE teacher at Oak Mountain Elementary School, where the students call him "Coach Boomer." He will be marrying his high school sweetheart Mandy Saville in June of 2020.
Why do I coach with the East Coast Sox?
I fell in love with the East Coast the summer of 2019 when I casually decided to go to the Hoover Met and watch one of their older teams compete in the WWBA championships. The standard this organization is held to means a lot to me. I get the chance to be a part of very high-level baseball while also making an impact on players of all ages, and players from around the whole southeast. Another reason I decided to join the East Coast is the way they bring about such a Christ centered atmosphere. From devotionals before and after games as well as helping young men grow through Christ, it is amazing. I am very thankful Coach Sykes, Coach Caruso, and Coach Dubose gave me this opportunity.