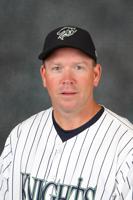 Brandon Moore - Serves as Hitting Coodinator
Brandon Moore is currently the head baseball coach at Oneonta High School in Oneonta, AL.   Coach Moore has over 23 years in the major league as a player and coach.  Coach Moore has joined the EC Sox coaching staff as a coach and instructor.
Coach Moore played baseball at Auburn University from 1991-1994 where he was an All-SEC shortstop.  Coach Moore currently holds many records at AU. Coach Moore was drafted by the Chicago White Sox in the 17th round of the 1994 amateur draft. He played seven seasons in the White Sox organization from 1994-2000, reaching the Triple-A level in both 1999 and 2000 before transitioning to a coaching role in 2001.
Coach Moore last served as the hitting coach for the Northwest Arkansas Naturals (AA club for the Kansas City Royals) in 2015.  Prior to joining the Naturals, Coach Moore served as the hitting coach for the Birmingham Barons, the Double-A Chicago White Sox, during the 2014 season.
Coach Moore has primarily served as a hitting coach within the White Sox and Pirates organization over the past fourteen years. Previous coaching stops include Birmingham (AA), Charlotte (AAA), State College (A), Altoona (AA), and Lynchburg (A).
Coach Moore son, Brodie, who is a former Sox player is currently a member of the Auburn University baseball team.