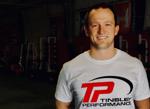 East Coast Sox is excited to announce the partnership with Cal Tinsely MA CSCS SCCC.
Cal is one of top guys in his field.   Cal has trained over 30 MLB players including Kendall Graveman (Oakland Athletics) and Mitch Moreland (Boston Red Sox) in the Birmingham Area.
Not only is Cal a top-notch instructor, but Cal is a solid spiritual leader also.   This is what makes us a perfect partnership as we both believe that the development of player is spiritual, mental and physical.
Some of you in the Birmingham area are familiar with Cal as he has trained some of you before at another facility.   Cal has moved out on his own and has opened Tinsely Performance in a local facility.
If you are in the Birmingham area, Cal has offered current East Coast Sox players a discounted rate to train thru the year or even for the summer.   We feel this is a great opportunity for players that are looking to increase their performance.
Cal will be offering Private/Individual, Semi-Private and Group sessions.
Cal grew up in Tuscaloosa, AL, where he played baseball at The University of Alabama for 2 years.  After graduation, Cal served as the assistant strength coach while working with every sport at Alabama in the weight room.   He obtained his master degree in Human Performance.
After his tenure at Alabama, he worked as a strength coach with the Atlanta Braves for two seasons.  His knowledge gained during these two years was valuable to his development of baseball players.
After working with the Braves, Cal started at Champion Sports Medicine in Birmingham, AL. As the Director of Athletic Performance.
Here is what Cal has to offer:
Physical Training
As a strength and conditioning coach, he takes pride in your physical goals. He will analyze where you are currently and design a strategic plan to get you to meet and surpass your desired goals.  He will push the limits of your body in order to take you to the next level of performance on or off the field of play!
Mental Training:
"There is no substitute for hard work"
This is a slogan he lives by and will continue to instill in every athlete that walks through his doors. Through physical training, he will open up areas of the mind that will shape, mold, and uplift you into the championship caliber athlete that you are!
Spiritual Training:
If we train every athlete's body and mind, but fail to train the spirit, we have accomplished nothing!
Every athlete will know beyond a shadow of a doubt that Cal and the staff love each and every one of you, and they plan to make an everlasting impact in your life.
Cal will do an EVALUATION on you to access where you are and where he can get you.
Contact Cal direct at  cal@tinsleyperformance.com  or call 205-534-7595
Go to TINSLEYPERFORMANCE.COM to learn more!