east coast sox 16u - furr head coach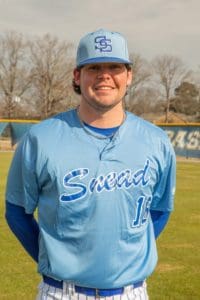 Coach Cameron Furr is returning to coach with the East Coast Sox for his 2nd season.
Coach Furr is currently serving as a pitching coach for Snead State CC.  In his first year, he has been a huge asset to their program.
In his playing career, Cameron played D1 baseball for the University of Alabama- Birmingham where he-served the Blazers out of the bullpen.  Before the Blazers he played Junior college baseball and high school baseball in the state of Alabama.
SNEAD STATE CC (2017-2019)
-Pitched for coach Casey Underwood
-Earned All-North First Team honors and was selected as the ACCC Pitcher of the Week in 2018
-Tied for the conference lead in wins over his career
-Also eighth in ERA and 10th in strikeouts in ACCC history
-Posted a .292 ERA through 61.2 innings pitched with 60 strikeouts through his sophomore year
HIGH SCHOOL
-Played at Hewitt-Trussville High School in Trussville, Ala.
-Pitched for coach Jeff Mauldin
-Helped the Huskies to win the 2016 7A State Championship in Alabama as a junior
-Pitched a complete game shutout in game two of the State Championship
-Only allowed four hits with no walks and four strikeout against Auburn in 2017
-Holds school records after posting a .5 ERA and pitching 39 2/3 consecutive scoreless innings
PERSONAL
-Born Cameron Alan Furr on December 17, 1998 in Trussville, Ala.
-Son of Beth and Parrish Furr
-Has one younger brother, Brantly
-Related to former Auburn pitcher Eric Wood