east coast sox 15U american HEAD coach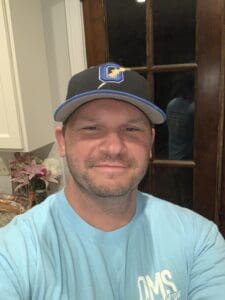 Chandler Gray is entering his 2nd season coaching with the East Coast Sox.
Coach Gray has been a high school coach in Florida, Georgia, and Mississippi for 11 years including serving at the head coach at
Bayshore High School in Bradenton, FL where he produced the most
successful season the school had in over a decade. He also served
as an assistant coach at Corinth High School in Corinth, MS, and
Falkner High School in Falkner, Mississippi, where he helped lead the
team to the only state title appearance in school history. Gray has
also served as the head coach at Oxford Middle School in Oxford, MS.
Gray is currently the District Athletic Director in the Benton County
School District in Mississippi. Coach Gray has coached 11 players
who made commitments to further their playing career in college and
two players drafted in the Major League Baseball draft, including a
third round draft pick.
A native of Jackson, MS, Coach Gray played at Jackson Prep in
Flowood, MS where he was a two time All-Metro and All-State player.
He furthered his playing career at the University of Mississippi, playing
under former head coach Pat Harrison. Gray transferred to Hinds
Community College, where he helped lead the Eagles to the Junior
College World Series in 1999. Gray is married to the former Ashley
Thompson of Bradenton, FL who played soccer at the University of
Mississippi, where the two met while attending a Fellowship of
Christian Athletes meeting. They have one daughter, Maddie (17),
who recently committed to play soccer at Louisiana Tech University,
and a son, Parker (15), who plays for the East Coast Sox.  The Gray's
live in Corinth, MS where they enjoy going to church, traveling,
watching movies and dancing in the kitchen.
Why I coach with the East Coast Sox?
I enjoy coaching for East Coast because it provides me the
opportunity impact a group of young men for Christ.  There are very
few organizations that allow people to grow young people for Christ,
while also providing them the chance to play at a high level of baseball.
With East Coast, I get the chance to meet coaches and
support staff who challenge me to be a better Christian and baseball
coach. East Coast Sox provides so many opportunities to build
relationships with the players and families, including the Saturday
night worship services, devotion times, and praying after the games. I
feel truly blessed to have this opportunity, and I pray that I can have
as much of an impact on the players this summer as East Coast has
had on me and my family.