east coast sox 16u national coach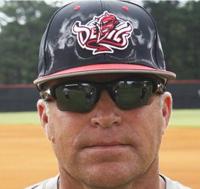 Coach AJ Kehoe will be returning to coach the East Coast Sox for his 6th season.
AJ came to the Sox when his oldest son came to play for the Sox program.  We quickly grabbed the talented Kehoe to start coaching one of our teams.  Over the past few summers, Kehoe has been instrumental in connecting college coaches from the south Alabama region to the Sox program.  His level of experience as a coach and his passion for the game comes out every weekend we play.
Coach Kehoe is beginning his seventh year as a coach of the Central High School Red Devils, second year as head coach.  In 2022, Coach Kehoe and Central Phenix won the their first State Championships under Kehoe.
Kehoe, a graduate of Hammond High school in Columbia, Maryland, received his Bachelor of Science Degree from Auburn University Montgomery, where he was a member of the 1992 National Association of Intercollegiate Athletics World Series team. He last played professional baseball for the Pine Bluff Locomotives (Pine Bluff, AR) of the Big South League. He received his Masters of Science in Curriculum Development from Arkansas State University in 2014.
Coach Kehoe has been a head coach for 18 of his 20 years coaching, with a career record of 451-196. He has led three different schools to 8 region championships. He was named 2006 region Coach of the Year by the Georgia Athletic Association, 2009 5A Coach of the Year by Alabama Sports Writers Association, and 2012 Auburn -Opelika News Coach of the Year. Coach Kehoe spent nine seasons at Beauregard High School where the Hornets played in 18 playoff series, won 4 Region Championships, 5 Area Championships, and a trip to the State Finals in 2012.
Kehoe is married to the former Brooke Wells of Wetumpka, Alabama. They have three sons: Jay, Cole, & Cooper.