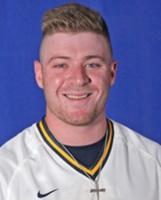 2017
NCBWA National Player of the Week…GSC Player of the Week…Played and started 44 games this season…hit .335 for the season…totaled 54 hits, including nine doubles and eight home runs…tallied 41 RBI…was 3-for-5 in stolen bases…posted 19 multiple hit efforts and 12 multiple RBI performances…the only player on the team with a five-hit outing, a season-best, against Delta State…finished the affair against DSU with three doubles and a home run…also drove in a season-best five runs.
2016
started all 47 games for the Choctaws in his debut season…posted a .300 batting average during the season with 51 hits, including 14 for extra bases, and 33 RBI…posted a season-high three hits against North Greenville on Feb. 12 and tied the mark two times…drove in a season-high four runs on Apr. 26 at William Carey…drew 12 walks on the season…made 10 appearances on the mound for MC with six starts… totaled 36.1 innings of work with 28 strikeouts…finished with a 3-4 record with one save…struck out a season-high seven batters against North Greenville on Feb. 12…finished the season with 14 multiple hit efforts and seven multiple RBI games.
BEFORE MISSISSIPPI COLLEGE
played at St. Paul's Episcopal School for Andy Robbins…batted .521 with 29 extra base hits and 62 RBI…registered a 12-1 record with a 1.71 ERA and 71 strikeouts…named Coastal Alabama Player of the Year…earned all-state and super all-state honors…earned MaxPreps Medium School Second Team All-American accolades…named to National Honor Society.
PERSONAL
son of Deana and Shannon Crim…majoring in Biology.