jeff mauldin - 16u Scout team coach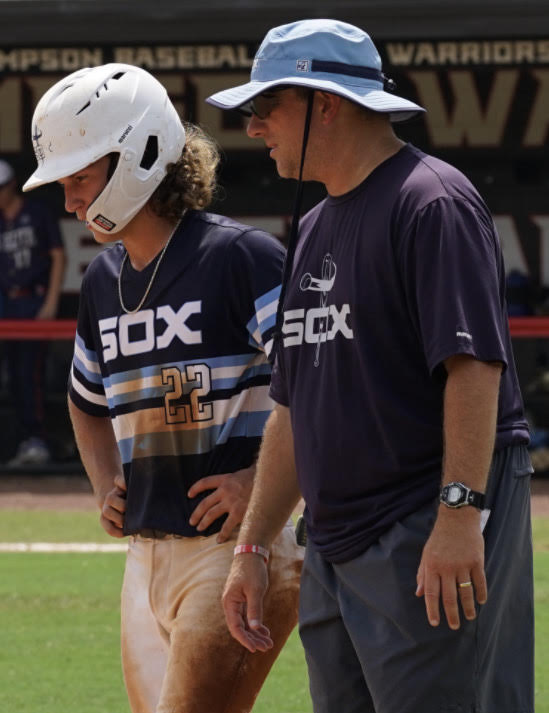 Coach Jeff Mauldin is returning to the East Coast Sox for his 8th season.
Every year, Jeff coaches the most elite talent the Sox can assemble.  He has done an amazing job leading these players to college scholarships and professional contracts.  His coaching highlights for the Sox are:
2017 World Wood Bat 15u National Championships
2018 Marucci World Series Finalist 2nd Place Finish
2019 Perfect Game Elite 32 5th place finish
2019 Marucci World Series 3rd Place Finish
2019 World Underclass 9th Place Finish
2020 Perfect Game Elite Semi-Finalist 3rd Place Finish
2020 World Wood Bat 15u 9th Place Finish
2021 Ultimate Baseball Champions
2021 USA Baseball Silver Medalist
2022 Ultimate Baseball 2nd Place Finish
2023 USA Baseball 9th Place Finish
Jeff Mauldin enters his 12th year as the Head Baseball Coach at Hewitt Trussville High School. In the
previous eleven years at Hewitt Trussville, his teams have gone 301-101-1 with one state championship
(2016), three state runner-up (2013, 2018, 2022), a final four appearance (2019) and six area
championships. He has sent 51 players to play college baseball in eleven years and has had three
players (Grayson Jones, 11 th round Atlanta Braves), Tyler Tolbert (13 th round Kansas City Royals) and
Carson Skipper (11 th round Colorado Rockies) drafted in the major league draft. After making it to the 7A
state finals in 2022 (fourth time at HTHS), Coach Mauldin is looking forward to the challenge of
continuing the process of building a program that will compete on the state and national level. Last year
his team was ranked in the top 10 the entire year. He currently has former players playing at the
following schools: Auburn, Alabama, Tulane, New Orleans, Alabama State, Grambling State, Shorter
College, Huntingdon College, Marion Military and Snead State. Two former Huskies are playing
professionally, Tyler Tolbert is in the Kansas City Royals organization and Carson Skipper with the
Colorado Rockies.
"We are looking forward to year twelve of the building process of our program. The last eleven year's
teams laid a great foundation of what it takes to be a champion on and off the field. It is very important
for our current players and coaches to continue the building process. Our varsity, JV, freshman and
middle school programs all play championship level baseball and represent our schools and community
on and off the field with respect. We started to build a winning attitude and we will continue the
process of having a winning culture. Our city of Trussville has had a big impact on our teams' success
the last eleven years. The community support has been unlike anything we have ever seen. Seeing
thousands of Trussville fans pack out Phil English field and travel to Montgomery, Oxford and
Jacksonville for the state championships is what our city is about. We look forward to the continued
support from the great city of Trussville, as we work together to build a program that our community
will be proud of for many years to come."
Mauldin previously spent six years as the Head Coach at Pelham High School where he compiled a 176-
51 record. His teams won four area championships in the six years as the coach of the Panthers,
reaching the quarterfinals of the state playoffs twice. His teams were ranked repeatedly #1 in the state
and were a mainstay in national polls including a stint as the #1 team in the nation in the max preps high
school poll. Mauldin sent 29 players on to play at the college level over his six years including 10 of
these at the Division 1 level as well as four drafted in the major league draft, Alvin Hines Washington
Nationals, Tripp Martin Texas Rangers, Trae Santos San Diego Padres and Parker Curry Los Angeles
Dodgers who is still currently playing.
Coach Mauldin spent seven years at Clay-Chalkville High School prior to Pelham. While at Clay-Chalkville
he compiled a 218-62 record. His teams won the 2003 state championship and finished runner-up in the
state finals in 2005 and 2006. They were also the area champion in five of his seven years (2000-2006).
Aside from the wins and championships, his teams sent over 45 players on to play at the college level.
His players have competed in the SEC, Conference USA, Ohio Valley, SWAC, and many Division II schools,
and the finest Jr. Colleges in the state of Alabama. There were also four players drafted in the Major
League Baseball draft in his seven years at CCHS, Josh Styes New York Yankees, Kyle Roberson Los
Angeles Angels, Justin Standridge Tampa Bay Devil Rays and current Hewitt assistant coach Daniel
Adamson Houston Astros.
Prior to becoming a head coach at the high school level, Mauldin was the head coach at Clay-Chalkville
Middle School in 1998 and 1999. Over those two years he had a 38-4 record winning two Jefferson
County Championships. The year prior to arriving at Clay-Chalkville, he spent the 1997 season as a
graduate assistant at UAB.
Mauldin was a pitcher for UAB from 1992-1996 under head coach Pete Rancont and pitching coach Jim
Case who is now the head coach at Jacksonville State University. While at UAB, he was a part of two
Great Midwest Conference Championship teams in 1992 and 1994.
A native of Danville, Virginia, Mauldin graduated from George Washington High School in 1991.
Coaching Background:
1997 UAB (Graduate Assistant Coach)
1998-1999 Clay-Chalkville Middle School (Head Coach)
2000-2006 Clay-Chalkville High School (Head Coach)
2007-2012 Pelham High School (Head Coach)
2013-present Hewitt-Trussville High School (Head Coach)
Coaching Honors:
2001 North-South All-Star Coach
2002 Jefferson County 6A Coach of the Year
2003 Alabama Sports Writers 6A Coach of the Year
Birmingham News East, West and North Coach of the Year
Alabama High School Athletic Association 6A Coach of the Year
Jefferson County 6A Coach of the Year
2005 Jefferson County 6A Coach of the Year
2006 Jefferson County 6A Coach of the Year
2009 North-South All-Star Coach
2013 Birmingham News Coach of the Year
2016 Alabama Sports Writers 7A Coach of the Year
Alabama High School Athletic Association 7A Coach of the Year
Al.Com Birmingham/Central Alabama All-Region Coach of the Year
National High School Federation Alabama Coach of the Year
National High School Federation South Sectional Coach of the Year which includes:
(Alabama, Florida, Georgia, Louisiana, Mississippi, North Carolina, South Carolina and
Tennessee)
Mauldin's Head Coaching Record By School
School Seasons Years W-L Pct.
Clay-Chalkville 7 2000-2006 218-62 .779
Pelham 6 2007-2012 176-51 .775
Hewitt Trussville 11 2013-Present 301-101-1 .749
Total 24 695-214-1 .765
Personal:
Date of Birth: October 21, 1973
Place of Birth: Danville, Virginia
Wife: Chrissy (25 years) (Birmingham)
Children: Tyler (22), Sara Grace (20), Caroline (18)
Alma Mater: UAB, 1996
Education:
High School: George Washington Danville, Virginia
College: UAB (1996)
Playing Experience:
College: UAB (1992-1996)
Mauldin (50) is married to the former Chrissy Johnson of Birmingham, who holds a degree in Elementary
Education from UAB and is also a graduate of Hewitt Trussville High School. She is a 1 st grade teacher at
Crestline Elementary in Mountain Brook. They are the parents of one son Tyler, 22, and two daughters,
Sara Grace, 20 and Caroline, 18.
Coaching Highlights:
Career Record 695-214-1
Winning Percentage .765
2 State Championships (2003, 2016)
5 State Runner-up (2005, 2006, 2013, 2018 and 2022)
9 Final Four Appearances (2002, 2003, 2005, 2006, 2013, 2016, 2018, 2019, 2022)
15 Area Championships in 24 years
18 State playoff appearances in 24 years
Over 120 players played at the college level
11 players drafted in Major League Baseball Draft
8 former assistants went on to be head coaches at high school level