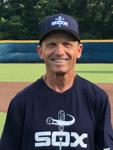 SOX COORDINATOR
John Shaw has joined East Coast Baseball as instructor for infield skills, hitting, and base stealing skills.  Shaw, Ole Miss Athletic Hall of Fame inductee, played second base for the Rebels in 1968 through 1970. Currently, he holds the career stolen base record and career and single season fielding records for the University of Mississippi. Additionally, Shaw was named All SEC second base in 1968 and 1970, captained the1969 Rebel World Series team, led the SEC in stolen bases for three years with 73 steals in 90 games, and was named Academic All American in 1970.
These achievements followed a career in high school sports in the Baltimore, MD. area, where he played infield for Leone's national championship traveling team and was named Leone's All Time Second baseman. He was drafted by the Baltimore Orioles and the New York Yankees while at Ole Miss, and played with the New York Yankees organization for three years. He led the Yankee organization in stolen bases in 1971.
Recently, John retired from a career in medical sales and sales management. Currently Shaw teaches baseball skills in Birmingham, AL. His coaching philosophy stresses upbeat attitudes, positive encouragement, and pressing onward to "The Goal", honoring Christ both on and off the field.