lee gann - 17u honor the game head coach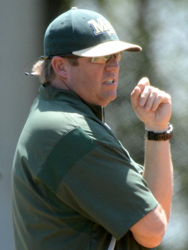 Lee Gann is returning to coach with the East Coast Sox for his 5th season.  While with the Sox, Coach Gann has led his team to a Perfect Game WWBA National Championship at the 15u level.  Lee is a huge asset to the program.
Coach Gann is currently the head baseball coach at Mountain Brook HS in Alabama.
Lee Gann began his career at Mountain Brook High School in 2003. That year they finished with a 26-9 record, runner up in Area 7, and played to the 6A state quarterfinals. The 2004 squad finished 18-17 and a trip to the second round of the state playoffs. In 2005, the Spartans finished the season 23-12. They continue to be strong winning back-to-back area championships in 2007 and 2008.
Coach Gann is a graduate of Homewood High School where he played football, basketball, and baseball. Following high school, Coach Gann attended Samford University on a baseball scholarship. While at Samford, he was named AllAcademic Trans-America Athletic Conference Team, Converse-American Baseball Coaches Association All-South Region Team, Most Valuable Player, and Team Captain. He graduated cum laude with a Bachelor of Science in Physical Education.
After college, Coach Gann signed two professional baseball contracts and played two stints with the Seattle Mariners organization and the Spartanburg South Carolina Alleycats organization of the Atlantic Coast Independent League. Coach Gann's coaching career began as an assistant baseball coach at Samford University in 1993. In 1994, he accepted a position at Hoover High School where he was an assistant coach for varsity football, varsity basketball, and head junior varsity baseball coach. He led several teams to Jefferson County Championships.
During the summer months of 1996,1997 and 1998, Coach Gann was manager/head coach of the St. Joseph Missouri Saints Baseball Club of the M.I.N.K. (Missouri, Iowa, Nebraska, Kansas) Collegiate League. All three years his teams were National Baseball Congress Central USA Regional Champions and his 1997 and 1998 teams were M.I.N.K. League Champions. His overall record was 142-37 with all three teams earning berths to the National Baseball Congress World Series in Wichita, Kansas. His team in 1996 finished 50-14 and placed 4th in the nation.
Prior to coming to Mountain Brook, Coach Gann spent three years at Bob Jones High School in Madison, Alabama. He posted a 75-40 record during his tenure there. In 2001, his team finished runner-up in the 6A State Finals. Coach Gann earned The Huntsville Times Coach of the Year. He also coached the North team in the 5th Annual Alabama High School Sports Week All-Star baseball game. His 2002 team posted a 31-8 record, won the AI Smith Memorial Tournament Championship and the ASMI/HealthSouth Challenge Championship.
In 2003, Coach Gann was named Over-the-Mountain Coach of the Year and Alabama High School Athletic Association 5th district baseball representative. Coach Gann is a member of the American Baseball Coaches Association. Coach Gann has been the Chairman of the Board and Awards Director for the Alabama Baseball Coaches Association since 2004. He was named The Birmingham News South Coach of the Year in 2011.