east coast sox 17u elite head coach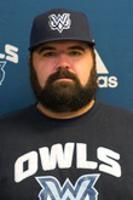 Coach Matt Wolfenbarger is returning to coach the East Coast Sox for his 5th season.
Matt was a former head coach in college and summer league baseball coach.  We are blessed to have his next-level wisdom and guidance for our players.  Coach Wolf describes the Sox program by sharing:
The East Coast Sox Baseball Organization is an incredible organization to be a part of. More specifically, this organization helps our youth mature physically, mentally, and most importantly spiritually through the great game of baseball. Everyone involved including administrators, coaches, speakers, etc. strives to get the best out of our youth and instill in our youth a winning attitude not only on the field but in life as well. The fellowship amongst parents, players, coaches, and administrators is special and is something I look forward to every year. Others that I speak with in relation to the East Coast Sox Baseball Organization all say great things and many coaches that I speak with that have former East Coast Sox players all brag about the type of young man that player is.
BIO: Coach Wolfenbarger is the Head Baseball Coach at the Mississippi University for Women in Columbus, MS.
Matt Wolfenbarger enters his fourth season as the head coach of the Owls baseball program here at The W.
During his first two seasons of Owls baseball, Wolfenbarger has led his team to two USCAA Small College World Series appearances with a fifth-place finish in both appearances. Because of his effort during the 2017-2018 year, Wolfenbarger and his staff were named as the 2018 Coaching Staff of the Year.
Prior to joining the Owls athletic staff, Wolfenbarger served as the Coahoma Community College pitching coach from 2015-2017. He also coached three seasons at Delta Academy in Marks, Ala., where he won two district championships, was named head coach for the MAIS High School All-Star Game, and was twice named Coach of the Year. From 2013-2015, Wolfenbarger held a 28-2 record in conference play.
As a right-handed pitcher, Wolfenbarger signed with Shelton State Community College in 2007. As a member of the Buccaneers, he was part of two Alabama Community College Conference championships, two top-five nationally ranked teams, and named 2009 NJCAA Distinguished Academic All-American. After his playing career, he went on to earn his bachelor of science in education from the University of Alabama in 2011.
As a high school athlete at Northside High School under coach Larry Mims, Wolfenbarger was named the 2006 West Alabama 3A Pitcher of the Year, 2007 West Alabama Super 10 Player, and both 2006 and 2007 Team MVP.