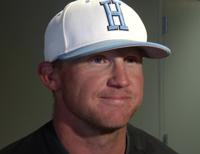 PJ Guy is currently the Head Baseball Coach at Helena High School, Al.  Coach Guy is in his 4th year at Helena where his teams were 2015 Class 5A State Runner Up, and 2017 Class 6A State Champions.  His overall all record at Helena is 103-40.
Prior to his career at Helena, Coach Guy was the Head Coach at Sipsey Valley High School, Al.   In 4 years his teams posted a 98-63 record with 3 area championship, and finished in 2014 as the Class 3A State Runner Up.
Coach Guy has been named ASWA State Coach of the year in 2014, 2015, and 2017 in 3 different classifications.
Coach Guy's passion for baseball started at Holt High School in Tuscaloosa.  Coach Guy went on to play at the collegiate level at Wallace State Hanceville, and Auburn University Montgomery.  He earned his undergraduate from AUM and his masters degree from West Alabama.
Coach Guy has been married for 5 years to his wonderful wife Lee Anne, and they have 1 child.  Ellie Grace Guy who his 1 year old.