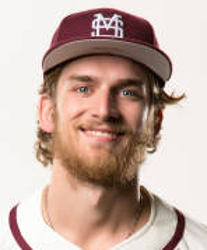 Ross Mitchell – Serves as 17u Head Coach and pitching instructor
Ross Mitchell is a former pitcher at Mississippi State University.   Coach Mitchell grew up in Smyrna, TN an was a two-year standout at Blackman High School in Smyrna, Tenn.  Ross is best know as being the Captain of the Bench Mobb (Second B is silent).  On campus, Coach Mitchell organizes and produces a quartley worship event on campus at the Palmeiro Center called "The Outlet"  He has gone on mission trips this past winter to the island of Eleuthera in the Bahamas, where he put on baseball clinics for the youth on the island.
Coach Mitchell is one of the most accomplished pitchers in MSU school history.  He was a member of the 2014 All-SEC Team, 2013 NCBWA, Louisville Slugger and College Baseball Insider All-American. Coach Mitchell ranks third in school history with an .828 winning percentage (24-5), fourth all-time with a 1.93 career ERA, is tied for eighth with 24 career wins and is 10th with 77 career appearances (13 starts). His ERA dropped to 1.86 (10-3) in 36 career SEC contests (10 starts) He has held opponents to a lifetime .217 average (189-for-869) in 242.1 innings of work.  He is one of three pitchers in MSU history to win 21-plus games in a two-season span at MSU (Jeff Brantley, Bobby Reed). Ross is a four-time member of the SEC Academic Honor Roll.
Coach Mitchell is a gifted song writer and has a passion for building disciples for  the kingdom.  Ross has been a mentor to many who have come to play at MSU.