sam gilmer - 15u north head coach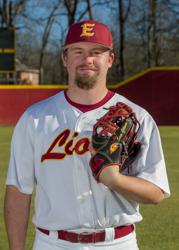 Coach Sam Gilmer is returning to the East Coast Sox for his 5th season.
Sam was a former Sox player and now coach.  Sam works very hard over the summer because he coaches his own team, but then, he always goes to his dad's team to help him when he is playing.  He stays at the field all day long because he loves kids and baseball.
Sam is a history education major at Emmanuel College in Franklin Springs, Georgia. He plans to teach and coach at the high school level. He is a senior RHP for the Division II Emmanuel Lions which plays in the Carolinas Conference.
Sam played his high school ball at Enterprise High School and Headland High School in Southeast Alabama. He lettered in Football, Basketball, and Baseball in high school. Sam played for two years for East Coast Baseball and was an all-tournament selection as a pitcher at the 2016 WWBA National Championship.