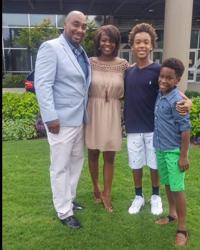 Shaune Holiday graduated from Tishomingo Co in 1992 where he was a 2 time all state baseball player and 2 time Daily Journal Area. Shaune also played in Crossroads All-Star game and the NEMCABB All-Star game in 1992.  His highest accolades in high school came when he was #3 in state in stole bases and in top 5 in numerous other categories.
Because of this success, Shaune received a baseball scholarship to the University of Mississippi where he was the 3rd African-American to play for the Rebels.  After 1 year he transfered to play at Itawamba Community College where he earned 1st team all state in JUCO.
Currently, Shaune has been an assistant baseball coach for 14 years at places such as Itawamba High school (4A) Tishomingo CO (4A) and currently Tupelo Christian Prep (1A). In 2016, his efforts help lead the TPCS team to a State Championship.  From this success, Holiday was selected to coach in NEMABB All-Star game in 2008.
Coach Holiday is also he head football coach at TCPS where he took a team that was 0-10 to 7-4, and eventually to being a playoff team in 4 years.  Holiday is the only African-American head football coach at a private school in the state of MS.
Coach Holiday is married to Chenelle Holiday (23 years) and they have 2 boys Khi and Layth Holiday.