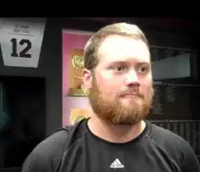 Trevor Fitts – Serves as 16u Head Coach and a pitching instructor
Trevor is currently the pitching coach and assistant coach at Daphne HS in Alabama.
Trevor Fitts finished a stellar career at Mississippi State University.  After finishing his eligibility at  MSU, Coach Fitts served as a Graduate Assistant at University of South Alabama for the 2015-16 season.   USA played in the Regionals before being eliminated.
Coach Fitts served as a Head Coach for a 15u team this past summer.   Coach Fitts served as the Pitching Coach for the 2016 WWBA 16u National Champions in July 2016.
Currently, Coach Fitts serves as a high school baseball coach at Daphne High School.
CAREER: Appeared in 62 games with 22 starts, going 10-8 with six saves and a 2.62 ERA in 144 innings pitched • Tallied 126 strikeouts and 40 walks, holding opponents to a .248 average • Lowered his ERA to 2.38 in 27 SEC appearances (10 starts), going 3-6 • Started game one of the 2013 NCAA College World Series Championship Series in Omaha, MSU's first appearance in the finals • Three-time member of the SEC Academic Honor Roll.
2015: Voted team captain along with Wes Rea and Seth Heck • Served as the team's closer, going 2-4 with a  team-low 2.03 ERA in 20 appearances • Tied for eighth in the SEC with a team-high six saves in seven opportunities • Struck out 28 and walked 13 in 31 innings of relief, holding hitters to a .212 average • Did not allow a run in his first six appearances (11.1 IP), recording saves in each of his first four outings • Tossed 1.1 innings of shutout relief April 26 at Arkansas • Made two appearances against top-10 Florida April 17-18, allowing two hits and zero runs in three total innings • Notched his sixth save of the season April 11 at No. 1 Texas A&M with four strikeouts in two hitless frames • Picked up his fifth save of the spring April 3 at home against top-15 South Carolina, throwing 1.2 innings without a hit allowed • Tied a career high as a reliever with 4.1 innings of work in the 3-1 home win against Auburn March 29, allowing no runs and one hit • Missed two weeks in March as well as the Ole Miss series in May due to shoulder issues.
2014: Went 5-3 with a 2.58 ERA in 16 appearances • Struck out 58 and walked just 15 in 69.2 innings of work, holding opponents to a .255 average • Pitched in two shutouts • Tied for 29th nationally and fifth in the SEC with a team-high 16 starts • Ranked second in the SEC in fewest walks allowed (15) • Tied for fourth in the SEC in fewest earned runs allowed (20) and fewest home runs allowed (1), while ranking ninth with just 26 runs allowed • Tied LSU's Aaron Nola for fifth in conference games only with a 1.93 ERA (10 starts) • Finished in the top 10 in league-games only in fewest earned runs allowed (9, T-3rd), hits allowed (41, 10th), walks allowed (6, 1st), runs allowed (14, 6th) and homers allowed (0, 1st) • Bulldogs went a team-best 12-4 when Fitts started • Earned the win in the starting nod May 30 against San Diego State in MSU's opener in the NCAA Lafayette Regional, pitching 5.0 innings in a 5-2 win • Pitched two shutout innings in the 12-0 run-rule SEC Tournament victory vs. No. 6 South Carolina May 21 in Hoover, Ala. • Gave up one earned run in 4.1 innings in the start at Alabama May 15 as MSU cruised to a 9-4 win • Picked up his first career road win at Auburn May 2, throwing 5.1 scoreless innings • Recorded his fourth quality start of the season with one run allowed on five hits in 6.0 innings of work April 24 vs. Texas A&M on ESPNU, striking out six and walking none to collect his first career SEC win • Surrendered just one run in 4.0 innings in an April 12 start vs. Ole Miss in front of an NCAA on-campus record 15,586 fans, earning a no decision in an eventual 6-5 extra-inning victory • Gave up one run in 3.1 innings in a start March 30 vs. Arkansas, earning the no decision in an eventual 5-1 win • Notched his third quality start against No. 3 Vanderbilt March 23, striking out six in 6.1 innings of one-run ball • Struck out six in a no decision March 15 at Georgia, giving up one run as the starter in 4.2 innings in an eventual 4-1 victory • Tossed his second quality start March 1 in the win vs. Eastern Illinois, striking out eight in 6.2 innings of one-run ball • Improved to 2-0 Feb. 22 in the first game of a double dip vs. Holy Cross with five K's in 5.2 innings • Struck out a career-high 11 batters in 6.0 innings to pick up the win vs. Western Carolina Feb. 15 • Member of the 2014 Spring SEC Academic Honor Roll.
2013: Appeared in 18 games, registering a 3.03 ERA and an 0-1 record in 29.2 innings pitched • Started six games, with the Bulldogs going 4-2 in those contests • Recorded a 26-9 strikeout-to-walk ratio while also holding opponents to a .235 batting average • Started the season with one run allowed in his first nine total appearances, a span of 11.1 innings pitched • Made the start in the second game of the NCAA Charlottesville Super Regional vs. Virginia June 9, picking up a no decision with one run allowed in 2.1 stanzas as MSU clinched its ninth NCAA College World Series berth • Also started vs. Indiana in Omaha June 17, earning yet another no decision as MSU won, 5-4 • Drew the start vs. UCLA in game one of the CWS Championship Series June 24, suffering his only loss of the season in a 3-1 setback • Member of the 2013 SEC Spring Academic Honor Roll • Played for the San Luis Obispo Blues of the California League in summer ball.
2012: Took the mound for eight appearances his freshman season • Compiled a 3-0 record with a 3.29 ERA and 14 strikeouts over 13.2 innings of relief work • Earned wins in his first two and his final pitching performances of the season • Made his collegiate debut with a season-best four strikeouts and earned the win in four innings of relief Feb. 25 against Mississippi Valley State • Worked a season-long 4.1 innings out of the bullpen and earned his second win a week later March 3 against Lipscomb • Picked up win No. 3 with 1.1 innings of work April 10 in State's 12-inning shutout against South Alabama • Made his SEC debut March 24 against Arkansas • Named to the 2012 SEC Freshman Academic Honor Roll • Pitched for the Danville (Ill.) Dans of the Prospect League in summer ball.
HIGH SCHOOL: Two-time Louisville Slugger High School All-American pitcher at Pelham High School • Coached by Jeff Mauldin • Compiled a 31-6 career record with nine saves and 10 shutouts in 53 mound appearances • Piled up 394 strikeouts over 268 innings • Fashioned a 6-4 record with three saves, 112 strikeouts and a 1.29 ERA en route to All-America, all-state and Shelby County Player of the Year honors in 2011 • Posted a 14-0 record in helping guide the Panthers to a 39-6 finish in 2010 • Also tallied three saves and a 0.91 ERA as a junior • Set school single-season records for pitching wins (14) and strikeouts (151) • Earned his first prep All-American and all-state team honors as a junior • Also honored as the Alabama Baseball Coaches Association Pitcher of the Year and Birmingham News Player of the Year • Tossed three one-hitters and four two-hitters while reaching double digits in strikeouts eight times in 2010 • Runner-up to former Bulldog and current member of the Detroit Tigers' organization Daryl Norris for 2010 Alabama Mr. Baseball honors • Member of the Fellowship of Christian Athletes and honored as PHS's 2010 Wendy's Heisman Athlete of the Year.
PERSONAL: Born Trevor Glen Fitts on Nov. 4, 1992 in Birmingham, Ala. • Son of Angie and Danny Fitts of Helena, Ala. • Famously presented a PowerPoint presentation to John Cohen about the benefits to players growing beards • Majoring in kinesiology.
CAREER HIGHS:
Innings Pitched-Starter:                      6.2 vs. Eastern Illinois, 3/1/14
Innings Pitched-Reliever:                   4.1, 3x, last vs. LSU, 4/30/15
Strikeouts-Starter:                               11 vs. Western Carolina, 2/15/14
Strikeouts-Reliever:                            4, 3x, last at Texas A&M, 4/11/15
Walks-Starter:                                     3 vs. San Diego State, 5/30/14
Walks-Reliever:                                   3 vs. LSU, 4/30/15
Hits Allowed-Starter:                         7, 2x, vs. Holy Cross (DH-1), 2/22/14
Hits Allowed-Reliever:                       6 vs. LSU, 4/30/15
Runs Allowed-Starter:                        5 vs. UC Santa Barbara, 3/8/14
Runs Allowed-Reliever:                     3, 2x, last at Memphis, 4/7/15
Earned Runs Allowed-Starter:           5 vs. UC Santa Barbara, 3/8/14
Earned Runs Allowed-Reliever:         3 at Auburn, 3/31/12