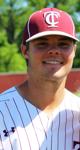 Wesley played baseball at Kosciusko High School as an infield, but also spent some time catching and in the outfield.  As a 2B he was awarded All District Honors his senior year.
After high school, Wesley continued his baseball career at Coahoma Community College for two years.
Wesley has served on 3 mission trips to Barahona, Dominican Republic where we run a baseball camp and share the gospel with the youth of Barahona.
He curently is pursing a degree in Middle School Education from the University of Mississippi.