wesley dew - 16u south head coach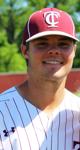 Coach Wesley Dew is returning to coach with the East Coast Sox for his 5th season.
Wesley has grown up through the ranks of the East Coast Sox.  Going from assistant coach to head coach for such a young coach was a great accomplishment for Dew.  He is a teacher by heart and he loves to coach every kid and make them better.
Coach Dew played baseball at Kosciusko High School as an infield but also spent some time catching and in the outfield.  As a 2B he was awarded All-District Honors his senior year.
After high school, Wesley continued his baseball career at Coahoma Community College for two years.
Wesley has served on 3 mission trips to Barahona, the Dominican Republic where we run a baseball camp and share the gospel with the youth of Barahona.
He currently is the assistant baseball coach for Kosciusko High School and he will be entering into his 2nd season as coach.