east coast sox 15u scout coach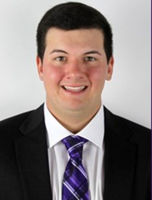 Coach Will Brand is returning to coach with the East Coast Sox for his 10th season.
After his 3 years playing career with the Sox, Will has spent the last 11 years of his life being a Sox.  Will has coached the highest level players the Sox possess.  Being the recruiting coordinator at Northeast MS CC and a Sox coach is a huge asset to the Sox program with Will's knowledge and ability.
Will Brand is taking on an expanded role with the Northeast Mississippi Community College baseball program during its inaugural season in the new "Field of Dreams" complex.
Brand has been promoted to a full-time assistant coach after serving the Tigers in a volunteer capacity during the 2019 campaign.
Brand recently completed his initial year in the coaching profession after a sensational playing career that started at Jones College and ended at the University of Central Arkansas.
The Hickory native helped the Tigers return to the National Junior College Athletic Association (NJCAA) Region 23 playoffs for a second consecutive campaign last spring. Northeast won 10 of its final 12 games during the regular season and captured 26 total victories.
Brand will oversee the Tigers' recruiting efforts alongside Harrelson and will take a more in-depth role with the pitching staff. He was Northeast's first base coach last year as well.
He was a standout pitcher himself during his playing days. Brand was the 2013 Mississippi Association of Coaches (MAC) Class 4A Co-Player of the Year after guiding Newton County High School to the state championship series.
Brand went 12-2 as a senior in 20 total appearances with 15 starts. He struck out 101 batters compared to just 12 walks in 99.2 innings of work with a sensational 0.91 earned run average (ERA).
He was also a MAC Class 4A All-State first-team selection during his last campaign with the Cougars in which they met Lewisburg High School for the state crown at Trustmark Park, which is the home of the Double-A Mississippi Braves.
The 6-3 lefty opened his collegiate career at Jones. He was part of the 2016 edition of the Bobcats that compiled a 54-9 overall record and won the NJCAA Division II national championship over GateWay (Ariz.) Community College.
Brand appeared in two games at the NJCAA Division II World Series at David Allen Memorial Ballpark in Enid, Okla. He tossed 2.1 frames in a triumph over McHenry County (Ill.) College and earned a save during Jones' semifinal victory against Sinclair (Ohio) Community College.
He compiled a 3-1 mark as a sophomore for the Bobcats with a 3.24 ERA in 17 outings, which included four starts at the beginning of the season. Brand actually toed the rubber against the Tigers on April 2, 2016, at Harold T. White Field and threw one scoreless inning.
Brand signed an NCAA Division I scholarship with Central Arkansas following his tenure at Jones. He appeared in 38 contests in primarily a relief role during the 2017-18 campaigns with the Bears.
He picked up his first victory in a Central Arkansas uniform on February 28, 2017, at Tennessee Tech University. Brand went on to win his final three decisions that year against Mississippi Valley State University and twice versus the University of Arkansas at Little Rock.
Brand recorded a career-high six strikeouts three times, including twice during his junior season in matchups at the University of the Incarnate Word (Texas) and Missouri State University.
He added triumphs to his resume during his final year at Central Arkansas against the University of Arkansas at Pine Bluff and the University of New Orleans (La.). His overall record with the Bears was 6-6 with four saves.
Brand wielded a solid 2.5-to-1 strikeout-to-walk ratio with a cumulative ERA of 3.62 while at Central Arkansas. He also committed just one error defensively during his stay in Conway, Ark.
Brand comes from an athletic family. His dad, Bill, was a two-sport star at East Central Community College while his mom, Rhonda, was a member of the softball program at Mississippi State University.
He holds an Associate's degree from Jones and a Bachelor's degree from Central Arkansas. Brand is engaged to Madi Sellars and the couple plans to wed in July 2020.
Why I chose the Sox?
After meeting Coach Caruso, Director of the Sox, I knew I wanted to be just like him.  He loved coaching how great Jesus and baseball go together, and I aspire to do the same.  The Sox have been a true blessing to me and my family, as Directors Greg Syes and eric Dubose, are family.