cody allsup - 14u prime head coach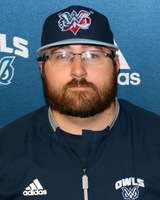 Coach Cody Allsup is returning to coach for the East Coast Sox for his 5th season.
Coach Allsup has been a Sox journeyman taking on many high-level roles within the organization.  From camps, showcases, directing, and coaching, Cody knows the ins and out of the Sox program very well.  As a former collegiate coach, Cody brings a vast number of previous collegiate relationships to the Sox program which allows Cpody the ability to help players get to the next level.
Coach Allsup is in his second season as Head Baseball Coach at Hamilton High School, MS.  With a shortened first season, Cody is excited to play a full season as a head coach.
Coach Allsupo also coached 2 seasons as an assistant coach with the MUW Owls baseball program where he serves as the Pitching and Catching coach. Before joining the MUW Owls Baseball staff, Cody Allsup played at Caledonia High School from 2009-2012. There he took home All-Area honors his sophomore, junior, and senior years and was named a NEMCABB All-Star while earning team MVP honors.
After high school, Allsup attended East Mississippi Community College in Scooba, MS. As a pitcher for the Lions, he was awarded the "Iron Lion" award for the hardest working pitcher on the staff and was a part of the winningest class in school history. His freshman year the Lions went 32-13 while winning the MACJC North division title. Cody's sophomore year, the Lions went 29-18 capping the season off with a berth in the NJCAA Region 23 Tournament.
As a junior and senior at Mississippi State, Allsup served as the pitching/catching coach at Starkville Academy for two years before taking a head coaching job at Sulligent High School in Sulligent, AL. While at Starkville Academy, he was a part of two conference titles and helped 6 players continue their baseball careers after high school. As head coach at Sulligent, Allsup led the team to their best season since 2010. In his first year as an assistant coach for the MUW Owls, the Owls finished 5th in the USCAA World Series.
A native of Caledonia, Mississippi, Allsup graduated from Mississippi State in 2017 with a degree in sports pedagogy. He is currently working toward his master's in public health education from The W. Cody resides in Caledonia.
The reason I Work for East Coast:
I decided to work for East Coast because I love the way the organization is run. I firmly believe that coaching is a calling, and I am a baseball coach because I love the impact that you can have on a kid's life. With East Coast, I am given the opportunity to work with kids from all over the country, and it is my goal to have an impact on their journey. Working for such a great organization gives me the opportunity to not only help young kids grow spiritually but is also helpful to my spiritual journey.
East Coast is an awesome organization that means a great deal to me. The entire staff invests in each baseball skillset, as well as their spiritual growth. As a college coach, working with East Coast, also gives me an opportunity to develop relationships with potential student-athletes, and that is a major help in recruiting. East Coast is an organization that is full of awesome people who have the same goal, which is to develop young men.