devin sisson --- 2026 Bomb Coach
Devin Sisson is entering his first year as a coach for the East Coast Sox.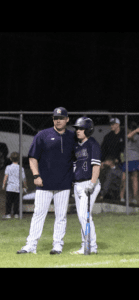 Coach Sisson has just completed his first year as a high school head coach for Russell Christian Academy.  Coach Sisson attended and played baseball at Meridian Community College for two years.  After completing his associates degree, he then transferred to the University of West Alabama where he played for 3 years.  As a relief pitcher he pitched 24 innings and held opponents batting average below .200.
Coach Sisson, from Meridian, MS, attended Northeast Lauderdale High school and was selected to first team all district two times.  He was also selected to play in the Mississippi Senior Allstar game which is held for the most pristine athletes throughout the state.  Devin Played under Coach Josh Snider as a utility player he was able to lead his team to the schools first appearance in the third round of the MHSAA playoffs.
Sisson is married to the former known Brooklyn Bryan of Cuba, AL who is a certified ophthalmic technician. They currently reside in Cuba with their two dogs Zeus and Piper.  The Sisson's enjoy taking their dogs for walks and spending time working together at the baseball field where Mrs. Sisson runs the concession stand to perfection as Coach Sisson mentors the young men to becoming the best player/person they can be.
Why East Coast Sox?
As a young coach, I am always looking for an opportunity to forward my craft.  Coaching with the Sox will allow me to grow in the way I attack coaching, as well as teach me valuable lessons on how I can continue to mentor and reach the young adults playing the game we all love.  I am looking forward to coaching with the East Coast Sox.
Colossians 3:23-24 "Whatever you do, do it from the heart for the Lord and not for people. You know that you will receive an inheritance as a reward. You serve the Lord Christ."