guy howard - 18u national head coach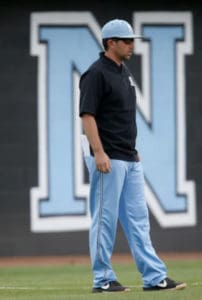 Guy Howard is entering his fourth season coaching with the Sox where he has coached in multiple WWBA Tournaments, USA Baseball Events, and Marucci Invitationals.  Coach Howard has been a high school coach in Alabama for 11 years including an assistant coach at Hewitt-Trussville High School in Birmingham and currently the head coach of Northridge High School in Tuscaloosa. While at Hewitt-Trussville, Coach Howard helped fellow East Coast Sox coach Jeff Mauldin build the Huskies into one of the top programs in Alabama. In his seven years on the Hewitt staff, the Huskies reached the semi-finals 4 times, the state finals 3 times, and won the 2016 7A state title.  Coach Howard took over the helm of the Northridge baseball program in 2020.  In his first season, the Jaguars reached new heights in advancing to the 6A semi-final game before falling to eventual state champion and fellow East Coast Sox coach Matt Seymour.  During his second year, Northridge again reached the playoffs and was ranked in the top 5 all season long.  Coach Howard has seen 5 players make commitments to further their playing career in college.
A native of Birmingham, Coach Howard played at Shades Valley High School for Alabama Baseball Coaches Hall of Famer Dick Steed where he was a two time All-Metro player.  He furthered his playing career at Coastal Alabama Community College (then called Faulkner State CC) in Bay Minette under another ALABCA Hall of Famer Wayne Larker.  Howard was named an NJCAA Academic All American during his sophomore campaign.  He finished his career at Southern Wesleyan University in Central, South Carolina where he earned All-Conference, All Region, NAIA Region Pitcher of the Year, and NAIA Academic All American honors during his senior year.
Howard is married to the former Holly Junkins of Anderson, SC who holds elementary education degrees from Southern Wesleyan and Samford University.  They have one daughter, Brantley (8), and a son, Brooks (1).  The Howard's live in Tuscaloosa where they enjoy running, going to church, and traveling.
Why I coach with the East Coast Sox?
I enjoy coaching East Coast because it allows me an opportunity to make an impact in a group of young men who want to compete and play a high level of baseball.  I get the chance to meet coaches and support staff who challenge me to be a better baseball coach.  I also love the Christian atmosphere of the organization.  I truly believe at the core of the East Coast is to help young men grow in their walk with Christ.  From the Saturday night worship and devotion times to pray with your team after a game to the one-on-one conversations you get to have with the players, I could not ask for a better way to spend my summers.  On top of that, the fact we get to play at SEC baseball stadiums is just a bonus.  I'm thankful to have coached with East Coach last summer and looking forward to another great time this summer.