East coast sox 14u scout coach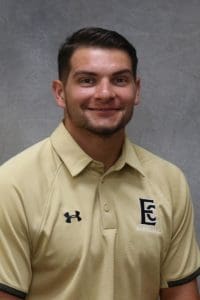 Currently, James serves as an assistant coach at East Central Community College, where he serves as hitting coach and recruiting coordinator.
Coach Donohue was  coaching at the college level as the Hitting and Infield coach at the Mississippi University for Women for two years.  He also served as recruiting coordinator.
A New Jersey native, Donohue graduated from Ridgefield Park High School where he was the Captain of the baseball team and earned 1st team All-Big North and 3rd team All-County as a Middle Infielder.
He then went on to play baseball at Bergen Community College (2013-2014) where he earned All-Conference and All-Region honors and received the NJCAA Rawlings/Gold Glove for his play as a second baseman. After 2 years in Junior College, Donohue earned a scholarship to play Division II baseball at Queens College. Making only four errors during his time there and zero as a senior. (2015-2016).
Donohue began working as a full-time hitting and fielding instructor at Teel's baseball School and coaching Club baseball through Teel's organization after his time as a college baseball player. While working at Teel's, he ran hitting and infield clinics for youth, high school, and college-level players. Donohue also coached High School baseball at Indian Hills in Oakland, New Jersey.
Why did I choose to work for the Sox?
"I would like to share how appreciative I am of the East Coast Sox and its community.  I had just moved to Mississippi from New Jersey, and a little nervous as to how I would fit in and meet new people.  East Coast has made the transition very smooth, easy, and comforting.  The organization embraced me with open arms, and I had felt as if I were part of their family since day one. I cannot thank them enough.
I am very grateful to the Sox for allowing me to lead, teach, and guide their young men.  I enjoy coaching baseball, but I love the connections you make with the players and other coaches through this game even more. The future is bright for this East Coast Sox organization and I cannot wait to be a part of it."