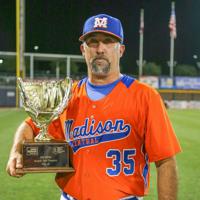 Coach Dupuy is the 9th Grade Head Baseball Coach and Assistant High School Coach at Madison Central HS, MS.  Jerry played his baseball in Starkville, MS, under Head Coach Ron Polk for the Mississippi State Bulldogs.
Jerry has had many roles for the Sox over the years.  He has served as site cordinator, pitching coach, and head coach.  With Dupuy's skillsest and expertise, we have used him all throughout the organization as a high prominent coach.
While at State, Jerry was starter for the Bulldogs amassing 52 innings pithed in the 1994 campaign.
Why I chose the Sox?
I chose the East Coast Sox because I am able to have a clubhouse again.  All the guys who love baseball and Jesus in one organization allows me to be apart of a great group of men again.