Joe Caruso - Owner and executive vice president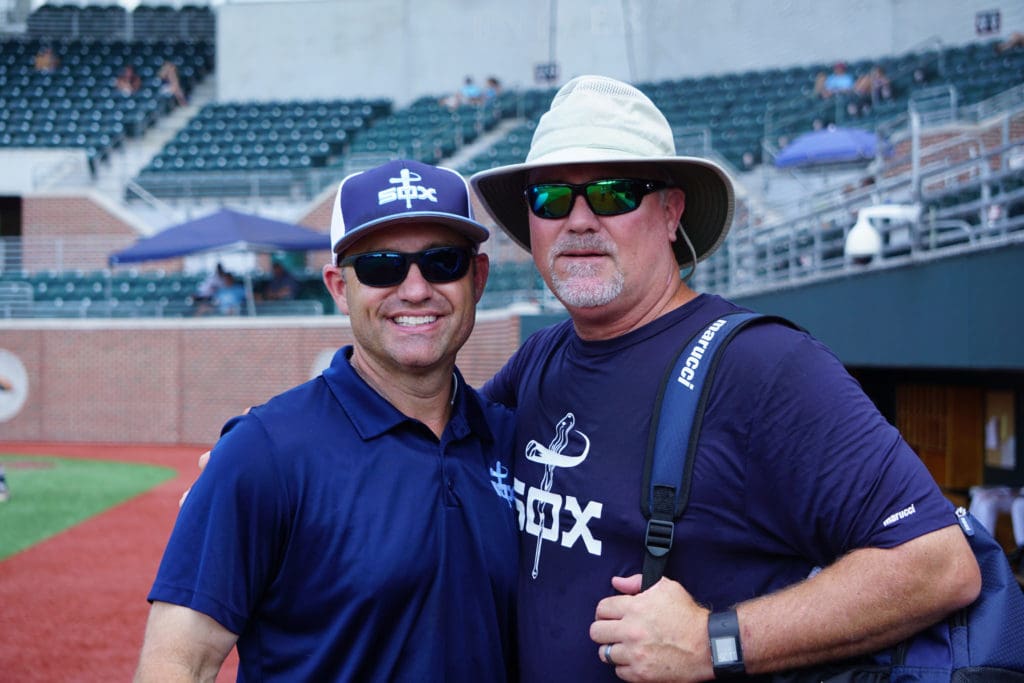 Joe Caruso pictured with Sox Florida Director, Kevin Berry, at the University of Alabama. Berry was Caruso's coach while he played for the Tide.
As owner and founder of the Sox, Joe has always had a heart for minitsry and baseball.  From the beginning, Caruso has inidated his life into the players lives both on and off the field.  He has been the liaison between professional scouts, college coaches, and event entities that help young men become All-Americans.
Coach Joe Caruso attended the University of Alabama where he was an All-American and All-SEC infielder.   In 1996, he broke the SEC tournament hit record going 14-26, and in 1997 he broke the College World Series hit record going 14-23.
Caruso became SEC Tournament Most Valuable Player in 1996 for his efforts and his team's championship run.
Coach Caruso was an 11th round draft choice of the Kansas City Royals in the 1997 MLB draft.  In 2000, he was selected to the TX League All-Star team for his .313 average and 13 HR performance.
Coach Caruso is a former hitting coach for Crichton College and Meridian Community College, where he coach a National Juco Player of the Year.
Joe currently is an Elder at his church (Central Church in Collierville, TN) where his family attends with him of wife, Karli Brewer Caruso, and sons Joey (18) and Jacob (14).
TESTIMONY:
Joe grew up in Lock Haven, PA, where he spent more time in barrooms than churches.  At the age of 14, his dad divorced his mom, leaving Joe the man of the house.
Without a Biblical background, Joe began to rely on his own thoughts and actions to make decisions concerning right vs wrong.  With great failure, Joe led a life of selfish ambition.  He felt he didn't need a God because he was his own god.  Captain and All-State Football player, point guard of the basketball team, and All-State Baseball player, Joe felt he was on the right track in life; especially after receiving a scholarship to the University of Alabama.
It was definitely divine intervention for Joe to attend Alabama as that was the only school to offer him a scholarship.  God sent Joe to Tuscaloosa to be influenced by teammate Brett Taft, Joe's SS double play counterpart, and his wife, Karli Brewer Caruso.
Brett would hold Joe accountable for his words and actions while playing the game.  Brett was the first confrontational Christian that would not allow Joe to act any way he chose to at practice, while wife Karli showed Joe the way to the Lord by inviting him to her church, Central Church in Collierville.
After several years of heartfelt prayer by Karli and others, Joe gave his life to Christ during his time in professional baseball in El Paso, TX, down the right-field line before the start of the game.
The moment that God used to lead Joe to salvation came when teammate Chan Perry, former Atlanta Braves MLB, was back in AA playing for the Wichita Wranglers with Joe.  Chan was 2-38 during his tough offensive stretch, but he never wavered in his faith by cussing, throwing equipment, or giving up.  Joe could not understand or comprehend the great peace Chan had during his struggles.  Joe approached Chan about his poor performances, and Chan's reply was " God said it's just not my time."
This would the statement that had Joe perplexed because he could not believe someone had that much faith in God.   Well in God fashion, Chan got 15 hits the next week and became Texas League player of the week.  Joe again approached Chan and asked what did he do to make this amazing turn around in his play.  Chan replied, "God just said it was my time."
Faith without works is dead, but for Chan Perry, it was alive and active because it pierced even the hardest heart of the almighty, all-knowing Joe Caruso.
So before one game in El Paso, TX, Joe came out of the dugout towards the right-field line where Chan was alone preparing for the game.  As Joe began his walk to prepare for the game, he became overwhelmed and began to cry, and he walked up to Chan and said, "I got to have what you have."  Chan replied again with profound leading from the Lord, "God said you were going to come to me."  At that moment Joe reached out full of tears in his eyes and began to hug Chan with all he had.  Chan and Joe began to pray, and Joe accepted Jesus Christ as his Lord and Savior.
Since this moment of salvation, Joe will tell you that from the ages of 28-33 Jesus was his Savior that he wanted Jesus to make him a better Joe and to also ensure he was saved from the eternal fire of hell.  At 33, Joe humbled himself by reading God's word daily, praying daily, and meditating on God's word daily so he could make Jesus the Lord of his life.  Joe fully surrendered himself to the Lord and Joe has been following God's will ever since Jesus became 1st in his life.
East Coast hopes and prays Joe's story can be used to encourage others that God's love is real.  Joe was once lost, but now he is found.  Thank you Jesus for another amazing salvation story of the mercy, peace, and love you give in abundance every day.
Joe Sunday Sermon "Thanksgiving"