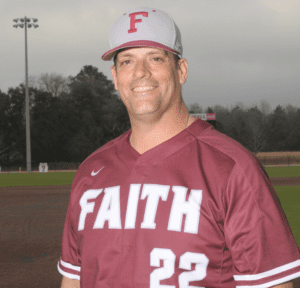 Coach Seymour is a new addition to the Sox staff this summer.  We are blessed to have a coach with a strong faith in  Jesus that has many years of coaching experience.  The character and integrity he will bring to the Sox program just made us better.  He will be a pure joy to be around and we are confident the players and parents will too.
Coach Matt Seymour played for Baker High School and ABCA Hall of Fame, coach Larry Andrews while winning a 6A State Championship in 1990.
Also, I played at Chattahoochee Valley Community College for ABCA Hall of Fame, Coach BR Johnson. After Junior College, Seymour Played for National Hall of Fame, Coach Tommy Thomas for the Valdosta State University Blazers.
Coach Seymour started his coaching career in 1995, at his alma mater Baker High School under the leadership of head coach Larry Andrews. From 1997-2006, he served as an assistant coach at UMS-Wright while winning the State Championship in 1997 and 1999. In 2007, He
joined ABCA Hall of Fame, coach Lloyd Skoda at Faith Academy. In 2008, Faith Academy won the AISA State Championship Coach Seymour was named head coach at Faith Academy in 2014, after the retirement of Coach Lloyd Skoda. Coach Seymour's record since being named head coach at Faith Academy is 133-44. The Faith Academy Baseball Team went to the State Finals in 2016 and
2017, and won its first AHSAA State Championship in 2018. This was the first in school history.
Coach Seymour was named the Coastal Coach of the Year in 2016 and 2018, 5A Coach of the
Year and USA Today 5A Coach of the Year in 2018.