Paul Phillips - 16u Nashville head coach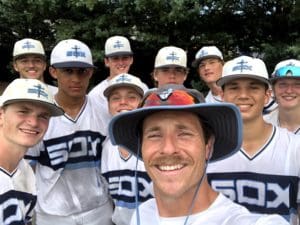 Coach Paul Phillips is returning to coach the East Coast Sox for his 2nd season.
As an assistant college coach and current Sox coach, we are blessed to have the next level of expertise and knowledge given to our players every weekend.  A devout Christian man who cares more about a player's heart than their batting average.  He is a kingdom builder.
Coach Paul Phillips has been a staple at the Sox Showcase event hosted every year in August.  During our time with Coach Phillips, we have built up a great fellowship with a strong man of God.  He also led our devotional before a Sox showcase event.  This will be Paul's 2nd year with the Sox as a full-time coach, but we are excited to have a full-time college coach on staff this summer.
Coach Phillips will begin his fourth year as the assistant baseball coach for head coach Doug Simons in 2020.
"Returning to Covenant to serve as the assistant baseball coach is a dream come true," Phillips said at the time of his hiring. "I am honored to follow in the footsteps of Ben Wharton and to learn from and coach alongside Doug Simons."
"I'm really excited that Paul has decided to come to be a part of our staff here at Covenant," Simons said. "His energy, passion, and work ethic will be a tremendous asset to our program. Most of all, Coach Phillips is a follower of Christ, who is familiar with our culture and is dedicated to our vision and philosophy as a program."
Phillips came to Covenant after spending two years overseas working in professional baseball. Over the past year, he's coached with The Hit Factory in Singapore working with 14U, 12U, 10U, and 8U club teams, while assisting in the development of the game of baseball in southeast Asia.
Prior to coaching, Phillips was a professional player and coach with the semi-pro team Füssen Royal Bavarians in Füssen, Germany. As a player and coach, Phillips was critical to the team's second-place finish and a 22-6 overall record in 2015. He led the league in stolen bases, was second in doubles, and third in on-base percentage during the season.
Phillips was a member of the baseball program's run to the USA South regular-season championship and NCAA Tournament appearance in 2014. Phillips played in 122 career games for the Scots and had a career average of .280 to go with 71 runs scored and 45 RBIs. He set the program record for hit-by-pitches in a career with 36 and also holds the program's single-season record with 19 in 2014. As a senior, Phillips hit a career-best .302 with one home run, 22 RBIs, 15 stolen bases, and an on-base percentage of .473.
Additionally, Phillips was a two-time conference all-academic honoree and was Covenant's representative on the 2014 USA South All-Sportsmanship team. He was also active with Covenant's Student-Athlete Advisory Committee (SAAC) and Fellowship of Christian Athletes (FCA) chapter.
"I look forward to disciplining this great group of guys and continuing the Scots tradition of excellence on and off the field," Phillips added. "I hope to be another catalyst for strengthening this team's energy, discipline, and confidence as we compete for a conference championship this year and the seasons to follow."
Phillips graduated from Covenant with a degree in Interdisciplinary Studies composed of Sports Management, Business, and Psychology. He and his wife, Emily (Covenant '13), were married in 2014 and the couple has two young sons, Dallas and Ranger.
Phillips on the Sox:
"I am thrilled to coach with the East Coast Sox for yet another summer. This organization absolutely fits my desire to glorify Christ through a commitment to excellence, learning, and discipleship through the game of baseball. I love that the Sox do not shy away from their Christian convictions, and I am excited to coach a group of young men to become better followers of Christ in all walks of life, not just as baseball players."