East coast sox 15u national coach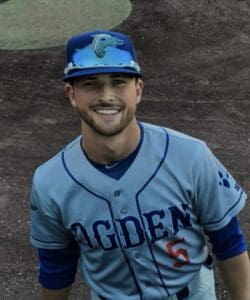 Coach Sam McWilliams is entering his first season coaching with the Sox and is excited to work with
young men to improve their game by teaching valuable lessons from his time in MILB.Coach McWilliams was drafted in the 19thround by the Los Angeles Dodgers in the 2018 MLB draft as a
multi-position player. Sam's speed was the thing that really caught the Dodger's eye clocking in a
blistering 6.28 second 60 yard dash along with an exceptional batting average and natural athletic ability to play multiple positions.
Coach McWilliams decided to accept the draft after a very successful freshman season at Meridian
Community College where he had a .404 batting average at the end of the regular season, high steal rate and error-free fielding from the outfield position.
Coach McWilliams was an accomplished 2 sport athlete while attending Simpson Academy in
Mendenhall, MS and played with the East Coast Sox the summer of 2016. While at Simpson Academy,
he set the All-time scoring record in basketball, helped lead his team to two state championships and an
All-Class Overall Runner-Up title. He was chosen as Mississippi Association of Independent Schools
(MAIS) player of the year in 2016-2017 and District MVP his Sophomore, Junior and Senior year. In
baseball, Sam was All-State MAIS his junior and senior years as a pitcher, infielder, and outfielder. He
was selected to the MAIS All-Star Team where he was named MVP for the MAIS All-Star game playing
both outfield and pitching 2 scoreless innings with a fastball 90+ and topping out at 96 mph.
Coach McWilliams played exclusively outfield as a Meridian Community College Eagle with a .400 batting
average. After being drafted; the Dodgers concentrated on developing his skills into a solid middle
infielder. In his first full season in professional baseball he played with the Ogden Raptors batting .291
with 11 home runs and 1.003 OPS before being promoted to A League. He was named to the Advanced
Rookie League Mid-Season All-Star team as a 2nd baseman. Coach McWIlliams was looking forward to an
outstanding 3rd year when COVID caused the 2020 season to be canceled during Spring Training. In 2020
during the Co-Vid shutdown he met his wife Olivia and became engaged. He was again successful while
playing the 2021 season for the Rancho Cucamonga Quakes in California batting .304/.384/.524 OPS .908
and 14 home runs before being promoted to High-A. He was named to the California League All-Star
team and twice named Low A West Player of the Week. Coach McWilliams finished out the 2021 season
with the Great Lakes Loons in Midland, Michigan, but an injury after only 5 games kept him out for the
rest of the season.
Coach McWilliams completed the 2022 MLB Spring Training before deciding to return home and start a
family. He currently gives private lessons to young aspiring baseball players across South Mississippi.
Coach McWilliams and his wife Olivia reside in Gulfport, Mississippi and attend Faith Baptist Church.
They are happy to announce the pending birth of their new daughter which is due April 7, 2023.
Coach McWilliams is excited to work with the East Coast Sox and have the opportunity to invest in young
players the same way the Sox invested in him. The ECS opened up many more doors for Sam that would
not have been possible without the ability to showcase his talents and baseball skills.