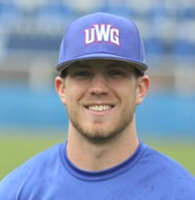 Adam Chamblee – 17u Head Coach and Hitting Instructor
Coach Chamblee currently serves as a Graduate Assistant at the University of West Georgia.
2015: Played in 46 games, starting 35 as an outfielder … Batted . 266 with a home run and 16 RBI … Had six doubles and a triple … Stole four bases in six attempts … Posted a .355 slugging and .313 on base percentage … Did not make an error the entire season in 61 total chances … Threw out five runners from left field … Had seven multiple hit games and three multiple RBI games … Longest hitting streak was four games … Carries a two-game hitting streak into the 2016 season … Batted .366 with runners in scoring position.
2014: Played in 40 games, starting 36 in left field … Batted .262 with eight doubles, a home run and 14 runs batted in … Had nine stolen bases in 15 attempts … Made just two errors in 61 fielding attempts (.967) … Had 11 multiple hit games and longest hitting streak was six games … Longest reached base streak was also six games.
2103: Played in 45 games, starting 41 … Batted .209 with 12 runs batted in … Had three doubles, a triple and a home run … Posted an. 890 field percentage … Stole seven bases in 13 attempts.
2012: Redshirted in his first year at UWA.
High School: Attended Winona High School in Winona, Miss…Lettered four years as a Tiger under the head coach Cole Surrell …,Baseball All-State 2011, Cole Holland Defensive Award and Stolen Base Award 2010.