B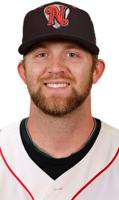 en Bracewell – Serves as a pitching instructor in the off season of professional baseball.
Ben Bracewell is a current major league pitcher in the Oakland A's organization with the AAA Nashville Sounds.    Ben was named PCL Pitcher of the Week in the Pacific Coast League for his performance from August 21st-27th, 2017.
Ben was a played is collegiate ball at Mississippi State University.
Five-time SEC Academic Honor Roll selection.
2014: V
oted by his teammates team co-captain along with Wes Rea • Went 3-4 with a 2.48 ERA in 19 appearances, starting seven games • Struck out 62 batters in 61.2 innings, walking 23 • Gave up just one home run all season, holding opponents to a .229 average with runners on base • Tied Jonathan Holder for the team lead in strikeouts looking (21) • Started MSU's second game of the NCAA Lafayette Regional, earning a no decision with four strikeouts in 3.2 in
nings in the 3-1 win against Jackson State • Registered a scoreless inning of work against Kentucky May 22 in the SEC Tournament • Struck out five in 4.2 innings of one-run relief May 17 at No. 19 Alabama • Tossed 5.0 shutout innings with five strikeouts May 9 vs. Tennessee • Pitched a hitless ninth inning in the 12-1 win at Auburn May 4, striking out two • Recorded career highs as a reliever with 6.0 innings and seven strikeouts out of the pen April 20 at Missouri, picking up his third win of the season in a 9-7 11-inning triumph • Started April 8 vs. Southern Miss in a no decision, fanning four in four frames • Fanned a career-best six batters out of the bullpen in four scoreless stanzas vs. Arkansas March 29 • Struck out a career-best eight in a career-long 7.0 innings in his win Feb. 25 vs. Mo
unt St. Mary's, picking up his  second-consecutive quality start • Tallied his first career quality start Feb. 19 vs. Memphis, striking out  seven in 6.0 innings pitched • Earned his first win of the season with 1.1 innings of scoreless relief vs. Western Carolina Feb. 16 • Member of the 2014 SEC Spring Academic Honor Roll.
2013: Went 1-1 with a 1.76 ERA in 21 appearances (two starts) • Struck out 28 batters in 30.2 innings pitched • Did not give
up a run in his first 10 appearances of the season (12 innings pitched) • Earned his only save of the season in a home win against Saint Joseph's March 3 • Made his first start of the season March 31 at Arkansas • Picked up the win at Ole Miss May 12 with five innings of one-hit ball in relief • Started the final game of the NCAA Starkville Regional, tossing 2.1 scoreless innings in a 6-1 win vs. Central Arkansas • Appeared in the NCAA College World Series Championship Series vs. UCLA on June 25 • Member of the 2013 SEC Spring Academic Honor Roll.
2012: Returned to action in 2012 with appearances in nine games, including starts in his first three games • Fashio
ned a 0.93 ERA with 19 strikeouts in 19.1 innings of pitching • Opening Day starter in MSU's 6-2 win Feb. 17 against Washington State • Pitched a season-longest 4.1 innings and registered a season-best five strikeouts against the Cougars • Also delivered three shutout innings of game-opening mound duty against Kansas Feb. 24 and Connecticut March 2 • Allowed two earned runs and two extra-base hits but did not factor into any decisions as a third-year sophomore • Drew SEC relief appearances April 1 at Auburn and April 21 against Tennessee • Three postseason m
ound appearances included a pair of matchups with Kentucky during State's championship-clinching run in the 2012 SEC Tournament in Hoover, Ala. • Made his debut in NCAA postseason competition with a relief stint June 3 against Samford in the NCAA Tallahassee Regional • Named to the 2012 SEC Academic Honor Roll.
2011: Sat out the campaign as a medical redshirt to rehabilitate an injured shoulder • Among 14 Bulldogs named to the 201
1 SEC Academic Honor Roll.
2010: Appeared in 17 games (all in relief) as a freshman, posting an 0-2 record and a 5.50 ERA while leading the Bulldogs with four of the staff's seven saves • Made his Mississippi State debut on opening weekend with an inning of relief work in State's Feb. 21 12-6 win vs. Rhode Island • Blanked opponents in 13 of his 17 appearances • Fanned three of the first six batters faced vs. URI and UAB and finished the season with 23 punch-outs in 18 innings pitched • Recorded season-best three-strikeout performances March 6 against Michigan State, March 14 at Texas A&M-Corpus Christi and May 8 at Auburn • Took the loss in a season-longest two-inning stint Feb. 28 vs. Southeastern Louisian
a • Rebounded March 6 to register saves March 6 against Michigan State, March 24 vs. Memphis, March 26 against Georgia and April 3 at South Carolina • Made nine appearances (8.2 innings pitched) in SEC competition, compiling an 0-1 record with a 9.35 ERA, two saves and 11 strikeouts • Among five Bulldog rookies named to the 2010 SEC Freshman Honor Roll.
HIGH SCHOOL: Four-year starting pitcher at Briarwood Christian School • Coached by Lee Hall • 2009 Collegiate Baseball/Louisville Slugger All-American and ASWA Super All-State team selection • Tabbed as the 2009 Birmin
gham News Player of the Year and Metro Player of the Year • Fashioned a 15-0 pitching mark with a 0.47 ERA while holding opposing hitters to a .108 batting average • Piled up 156 strikeouts in 90 innings, helping lead the BCS Lions to a 31-9 mark and a runner-up finish behind Hartselle Hight School in the state 5A playoffs • Allowed only four extra-base hits • Earned the win in six of Briarwood's nine playoff games, posting a remarkable 0.19 ERA in postseason play • Also hit .411 with 42 RBIs and 10 home runs, including four in the playoffs • Set 20 school pitching records and six hitting records • Posted a 5-3 mark with two saves and a 0.86 ERA en route to honorable mention Alabama Sportswriters Association All-State and First-Team Birmingham News All-Metro team honors as a junior in 2008 • Registered 96 strikeouts in 65 1/3 innings • Starred at the plate with a .421 batting average and a team-best 48 hits and 21 stolen bases • Honorable mention Collegiate Baseball/Louisville Slugger All-American • 2008 Shelby County Reporter Player of the Year and Birmingham News Shelby County Pitcher of the Year • Named to the AHSAA North/South All-Star and the Alabama East/West All-Star teams • Finished his career with a 27-9 record, a 1.16 ERA and 336 strikeouts in 241.0 career innings pitched.