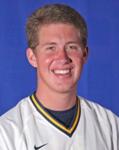 2017
appeared in 20 games, the most on the team…gathered two wins…posted a 6.94 ERA…tossed a season-best 5.1 innings vs. West Georgia to earn the win…fanned a season-high six batters against Shorter…led the team with two saves on the season.
2016
saw limited action with two appearances on the season.
BEFORE MISSISSIPPI COLLEGE
played at Baker High School for Bill Glover…posted a .390 batting average…member of the National Honor Society…named AP Scholar.
PERSONAL
son of Erica and Tim Holloway…majoring in Biomedical Science.